DAILY PROGRESS: Murals lure viewers into 'creative conversation about what Charlottesville is'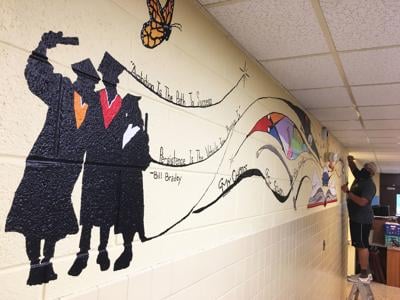 A brush with art turns yesterday's concrete retaining wall into tomorrow's community landmark.
Artists Sahara Clemons and Ryan Trott have been hard at work on new original murals — artworks writ large for outdoor consumption at a distance during a COVID-19 pandemic-fueled era that makes traditional indoor gallery openings seem remote and long ago, and at a time when gatherings and rallies in public spaces are prompting deeper reflection on larger concepts of community, representation and identity.
Nearing completion around 120 10th St. NW and visible from 100th Street Northwest, the new works from the Charlottesville Mural Project are joining an enduring tradition of offering "a good contribution to a conversation about what makes a city a city," Alan Goffinski said.
A third mural has been completed. Jae Johnson's new work, an indoor creation with an inspirational, educational theme, will greet students and faculty members with a note of encouragement when classes resume at Charlottesville-Albemarle Technical Education Center.
"Murals are unique to whatever city or town you're driving through, and you get a glimpse into the authentic culture of the city," said Goffinski, executive director of The Bridge Progressive Arts Initiative, which presents the Charlottesville Mural Project. "I think murals in public should be embraced by city authorities and tourism [leaders] as authentic culture for our town."
Murals have a way of prompting viewers to look back and ahead at the same time, and these new outdoor projects offer combinations of traditional imagery and dreams for a better future.
Clemons, a multimedia artist and Charlottesville native pursuing a bachelor of fine arts degree at Rhode Island School of Design, based her mural's design on her mother's strength and tenacity. Her mural, which honors and recognizes all Black women for breaking barriers, depicts her mother reclining while lifting a lightning bolt.
Trott, an elementary school art teacher, took a playful approach that turned local students' ideas into visual components. Young people in the neighborhood surrounding the mural shared their ideas about taking everyday objects in their lives and looking at them in new ways, and Trott listened. Keep an eye out for such images as a slice of pizza and a basketball.
The murals can be "valuable in helping Charlottesville create a visual landscape that is forward focused," Goffinski said. "I think artists are uniquely poised to communicate big ideas and new ideas in a compelling way that maybe others aren't."
Prompting discussions and reflection is part of the process.
"We don't believe that any mural is going to tell the full story of a community," Goffinski said. Rather, an individual mural can "paint a picture of a creative conversation about what Charlottesville is. It's a very interesting moment for public art in the country, and in Charlottesville. We love to provide a platform for artists with something to say and something to share."
Murals have a way of inviting people to look at everyday surroundings with fresh eyes. The backdrop to a selfie shared by giggling friends on an afternoon off in 2020 may feel like a childhood touchstone years from now for children who've grown up in the neighborhood. Goffinski said the project is taking care to make sure the murals can "stand the test of time," literally and artistically. "In this case, we're using the highest-quality materials in hopes of them lasting for a long time," he said.
"I often like to think about what a mural communicates, as opposed to what a blank wall communicates: 'We value you. We value the community,'" he said.
The current climate offers plenty of food for thought in terms of making the transition from hunkering down introspectively in small spaces to thinking big and looking up and out.
"This is such an interesting moment across the country," Goffinski said. After months of being cooped up at home to avoid contact with COVID-19 and missing First Fridays gatherings and exhibit openings, "it's really meaningful for us to be able to facilitate from a distance." Murals offer both pedestrians and drivers the opportunity to consider details and big-picture impact at the same time.
The Bridge has an indoor art gallery of its own, but, as Goffinski said, "No matter how inviting you make your art gallery, some people won't want to go, or won't see themselves there."
On the other hand, he said, "A city street is for everyone."