N_SEME fills UVa venues with creativity of experimental sound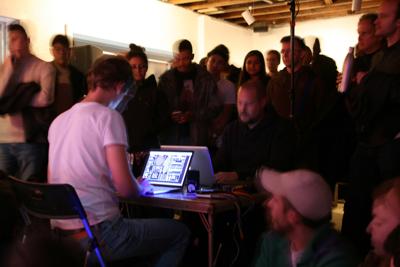 There doesn't appear to be anyone in charge of the National Student Electronic Music Event, or N_SEME, the annual festival celebrating electroacoustic composition and experimental sound. For the past seven years, the weekend-long gala — and the ever-growing knowledge base about how to run such an event — has been passed along from university to university through word-of-mouth and a shared interest in challenging sounds and art.
This year, the needle fell upon the University of Virginia, with students from the school's Composition and Computer Technologies program handling all the logistics, from programming all the performances and installations that will be on display to tracking down a guest performer to join in the festivities.
"It's been described to me as a kind of anarchist festival," said Becky Brown, the UVa graduate student serving as executive director of this year's N_SEME. "The only person that's sort of consistent is one professor at Temple University who is in charge of the Facebook page. Other than that, it's supposed to be entirely student-run. And the nature of the event is such that once you're not in school anymore, you're not supposed to be involved anymore, so you can't have a central board of directors."
The bulk of the program for N_SEME is made up of new work from students around the world, performed by the composers or local artists — or, in some cases, presented at listening sessions at Old Cabell Hall on the UVa Grounds or at the Bridge Progressive Arts Initiative. That includes fascinating pieces like "Albeniz Collage," conceived by Colombian composer Juan Carlos Vasquez, which blends together 100 different versions of Isaac Albéniz's "Granada" into a gorgeous digital landscape, and local composer Stephen Hennessey's "Left of Moments," written for two piccolos and live electronics.
Another piece on the schedule requires a little bit of extra effort to hear it as the composer intended. Ralph Lewis's "Drive to the Edge" will be aired on UVa's student radio station WXTJ with the intention of having listeners tune in on the very edges of the station's coverage area.
"The idea is that you hear the piece, but you also hear the scrambled garbage that happens when you're getting outside of how far the station can broadcast," Brown said. "So right after the keynote speech, we're all going to hop in a shuttle and listen together to how it's all going to get messed up."
One of the big draws for this year's N_SEME is the keynote speech and performance by guest artist Aaron Dilloway. The Ohioan is one of the best known and most prolific experimental musicians in the world, both from his days as a member of the ensemble Wolf Eyes and through his solo recordings.
On his own, his work (most of it released through his own label, Hanson Records) ranges wildly in sound from short bursts of noise to what sounds like a synthesizer stuck in an infinite time loop to ambient field recordings picked up during his travels.
As with any festival, the schedule for N_SEME is particularly packed between the various concerts and presentations, which lends itself to a potentially overwhelming experience especially for anyone who might not be familiar with experimental music and art. But, as Brown puts it, your best bet is to dive in and immerse yourself.
"So much of the experience is just being part of the concert itself," she said. "Having a big mix of fixed media pieces that create this wild environment and video pieces that have bizarre abstract stuff to look at and live stuff that changes the experience of you versus the stage. There's a lot."
Robert Ham is a correspondent for The Daily Progress.
» The Treachery of Birds (Joshua Brown): Language Commons, Friday evening and all day Saturday
» Memories of Light (Helen He): Language Alcove, Friday – Saturday
» Through summersultryings (Chris Luna): outside Old Cabell Hall, Friday afternoon and all day Saturday
» A more perfect union (Tate Carson): Old Cabell Hall lobby, Friday and Saturday
Concert 1: 10 a.m. Friday in Old Cabell Hall
» Juan Carlos Vasquez, Collage 11, "Albeniz Collage"
» John Clay Allen, "Light Pillars II"
» Nicolas Chuaqui, "Footprints I"
» harleigh shaw, "Entangled"
» Ian English, "Organism 2.5"
Paper Session 1: 1 p.m. Friday in New Cabell Hall 323
» Justine Valka, "Using an Electromagnetic Pickup to Listen to Electronic Devices"
» Skye van Duuren, "Bridging Worlds: Creating Fixed-Media Microtonal Music with Acoustic Instruments"
Concert 2: 2 p.m. Friday in Old Cabell Hall
» Stephen Hennessey, "Left of Moments"
» Carolyn Borcherding, " Frenetic Disintegration"
» Peiyue Lu, "Aquatic Cubes"
» Stewart Engart, "Gli ugonotti — Qui sotto il ciel"
» Tomek Arnold, "Dance and Noise"
» Ryan Maguire, "freeLanguage"
Guest Artist Keynote: 3:30pm Friday in Old Cabell Hall 113